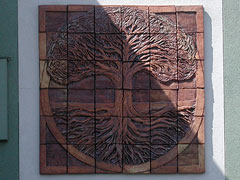 Safe Harbor/New Dimensions
Location: 582, 584 Kentucky Ave., Woodland, CA
Architects: Mogavero Notestine Associates
Media: Stoneware
Dimensions: 8 small panels: approx. 24" x 24" each
2 large panels: 48" x 48" each
Date Completed: 2008

Collaborative projects such as this one involve many hands, concepts, viewpoints and sources of inspiration. Safe Harbor House, a crisis center administered by Yolo Community Care Continuum in Woodland, CA, provides a supportive environment and a link to the community. Through several workshops we developed the visual themes for this bas relief series. Symbols of life that hold meaning for the clients were sculpted, mainly by them, in clay. Themes of the cosmos (sun, moon, stars), growth (flowers, people, animals, tree of life), music, and water flow across 10 panels in a positive celebration of life, continuity, and hope.