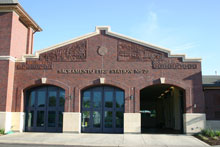 Location: Fire Station 20, 2512 Rio Linda Blvd., Sacramento, CA
Funded by the City of Sacramento through the Sacramento Metropolitan Arts Commission: Art in Public Places
Media: terracotta bas-relief
Dimensions: 6' 10" high at the highest point, approx. 80 ft. wide overall
Date completed: 2005


Protecting the Community references the history of firefighting in the region. The traditionally designed red brick fire station inspired me to design a series of traditional terra-cotta murals wrapping around the pediments and upper façade of the building. In researching the history of local firefighting, I discovered a wealth of information, artifacts, photographs, and knowledgeable historians and firefighters. Assembling these images allowed me to create a visual narrative.

Each panel presents equipment, scenes, symbols and insignias depicting firefighting and the community. In the left side of the main pediment (over the three apparatus bays) are scenes of the farmland, rivers, and early settlements developing into a city. The horse-drawn wagon evolves into the three-horse hitch steam fire engine, racing toward a call. The right side of this pediment shows the 1949 Peter Pirsch ladder truck that became the pride of the city fire department. In the background are some of the buildings that shaped the early skyline of Sacramento. Over the Battalion Chief's bay is a general city scene, based upon historic photographs. The florets at the base of the pediment artwork are stylized camellias, representing Sacramento. Smaller medallion panels on each of the towers and various niches and corners incorporate the phoenix, speaking horns, ladders, a helmet, a hose, and badge insignias.

This work is designed to integrate with the historic look of the architecture. The overarching theme is to honor this history and the firefighters who put their lives on the line in the protection of the community.